Nursing Consulting Partners Helps Hospitals
Stay the Magnet® Course
Hospitals on the Magnet® Journey Face Unprecedented Challenges Caused by the Coronavirus Pandemic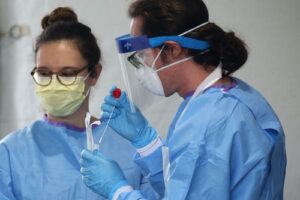 The journey to Magnet® designation is always worth it…but never easy. It must be a strategic priority for your organization. We know it takes commitment, time, and resources of your organization to succeed.
But the coronavirus pandemic has shifted priorities, threatening to slow down…or even shut down your Magnet® journey.
You know firsthand the impact of the Covid-19 pandemic on your hospital. Overworked staff…not enough PPE…scarce ICU beds…cross training demands…nurses sometimes the only "family" at the bedside of a dying patient…nurses worried about their own families at home. No time, no space, no energy to meet, work on projects, or support each other.
NCP taking care of you...while you take care of your patients
Postponed a Magnet Readiness Assessment?
We will mentor yours or even take over their job
Trouble Writing Your Magnet Document?
We will write it off-site for you
Let us take the next steps of your Magnet® journey for you
Nurse Leaders Struggling?
NCP Executive Coaches help offsite
Can't Complete a PTAP Application?
We have the time and resources to do it offsite
No Time for Nursing Research?
Our NCP Nurse Scientist will take this over for you
Let us support your nursing governance system, strengthen peer review, conduct your educational needs assessment.
Call NCP today at 855-373-8729 x0
Contact Us